"Bar Pizza" with Adam Kuban – Intermediate 2
February 13 @ 10:00 am

-

1:30 pm

PST

Price: US150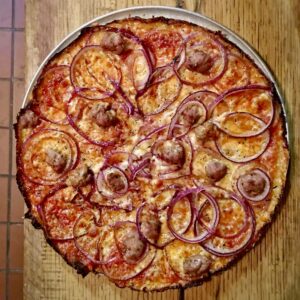 In INTERMEDIATE PART 1, we covered a variety of topics including flour types, ingredient purposes, desired dough temperatures, friction factor, mixing styles, bulk fermentation strategies, stretch and fold techniques…and of course the 14 Steps of Artisan Baking and how you can use these time-tested rules to fine tune your pizza game. Now in INTERMEDIATE PART 2, we will pick up with this class where the last one left off. Let's make some pizza!
As with all of our classes, we will begin by making some pizza dough. But not the New York Pizza Dough for Home Bakers you made in the Part 1 Class. This time we're going to explore the world of "BAR PIES"…but don't call them that. Call them "Bar Pizza" please. We'll explain why in class…
Once we are done making dough together, we will make pizza together.  Next Sunday's Special Guest and Co-Instructor will be none other than Adam Kuban, known the pizza world around for his insight into the New York Pizza scene and his knowledge of what separates the best of the best pizzas in NYC.
Adam will be helping us explore some of the most celebrated but under the radar pizzerias in the US, mostly on the East Coast, serving this iconic but under-rated style of hyper-regional thin crust pizza.
Even better, for the first time ever, Adam Kuban will be walking attendees through the recipe and techniques for his bar-style pizza. Kuban is the internet's original pizza blogger, more recently known for his sells-out-in-seconds bar-pizza pop-up, Margot's Pizza. Join this class and we'll walk you through the dough recipe and techniques to make this pizza in your home oven.
It's all informed by nearly two decades chronicling pizza first as New York's original pizza blogger at Slice NY, then as the founding editor of Serious Eats, and now on his influential pizza-focused Instagram account @akuban.
Once you register, we'll send you a list of ingredients you'll need, recipes and instructions… everything you'll need to prepare for this class in advance.
Also, Adam suggests that you may want to order this pan if you'd like to use the same pan he will be using.  Not entirely necessary but recommended.  There is a two-day shipping option so you all still have time..