Focaccia Genovese with Italian Baker Stefano Tulipano – Advanced Pizza 2
May 2 @ 10:00 am

-

2:00 pm

PDT

Price: US150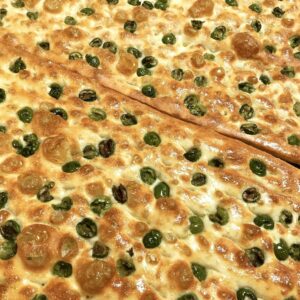 Focaccia Genovese with Poolish with Italian Baker Stefano Tulipano from Genoa
Our Advanced classes bring people from around the country, from chefs and aspiring restaurateurs to seasoned home bakers. Until now, we have limited our Advanced Class to Part 1 only. Finally we are rolling out a new generation of the Advanced Class: Part 2. The follow-up to the Part 1 class that has been selling out since we first introduced it back in May 2020, we will be introducing a variety of traditional and innovative bread and pre-ferment applications to our high hydration, long fermentation tradition.
We are bringing in a co-instructor to co-teach with Noel, Italian Master Baker Stefano Tulipano. Born in Novi Ligure, south of Piemonte, Stefano started his culinary career at the age of 14 years old in a culinary school in Genova where he specialized in bread and pastry.
After working his way up the culinary ladder from high end pastry shops to luxury hotels and finally the world of super-star chefs (Google Piergiorgio Giorilli if you don't believe me) he landed in Chicago where he ran the artisan bread programs for eight high volume chef-driven restaurants simultaneously for probably the largest restaurant group in Chicago
.
And this is where I met Stefano, the best and most talented artisan Italian bread baker I have ever met. And we made pizza together…and became life-long friends.
After mixing a dough together as a class, we will take our time to show you a variety of traditional and non-traditional techniques to prepare a very important  Italian bread: Focaccia Genovese.
Once you register, we'll send you a recipe and instructions…everything you'll require to prepare for this class in advance.
If you choose to make the dough twice, you will have to start TWO DAYS BEFORE CLASS BEGINS…
Friday: Prepare Poolish for Dough 1
Saturday: Mix and Shape Dough 1; Prepare Poolish for Dough 2
Sunday: Mix & Shape Dough 2 (during class) and Stretch, Top & Bake Dough 1 (also during class)
REGISTRATION LINK COMING SOON…