New York PIzza, Confit-Fried Wings & Meatball Madness with Chef Matt Ranney – Intermediate Pizza 2
February 23 @ 5:00 pm

-

8:30 pm

PST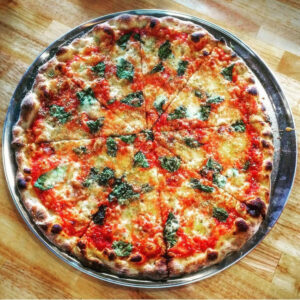 Noel was lucky enough to meet Chef Matt Ranney when he consulted for a new pizza concept in downtown El Segundo.  The owners of El Segundo Brewing Company had approached him years before about doing a New York-style slice shop at a nearby location.  Noel took the job and began working on a variety of doughs for them but in the back of his mind he was concerned about which chef they would choose to execute the pizza. All of his concern turned to pure pizza joy when they wisely brought in Boulud Alum, Michelin trained Chef Matt Ranney, and the rest as they say is pizza history…
Chef Matt got his first taste of cooking at an early age working at Oysters Restaurant in Corona Del Mar California. After a few short months he was hooked by the energy and precision of the kitchen and shortly after completing highschool he enrolled at the Le Corden Bleu Culinary School in Pasadena. After finishing his schooling, he began cooking across orange county before settling into The Crown Bar & Kitchen in his first sous chef position.
To continue learning Matt picked up and moved to Las Vegas where he earned a position cooking at Daniel Boulud Brasserie inside the Wynn hotel. It was there he was able to soak up knowledge from the Michelin star restaurant of classical French technique, modern style and charcuterie. Matt returned to California to work at Anqi Restaurant in Costa Mesa and then a modern technique pop-up restaurant named Prive.
The whole animal butchery program spoke to Chef Matt from The Village Idiot in Los Angeles. Over the next six years he shaped the restaurant and its menu around the art of butchery, dry aging, and seasonal produce. In 2019 Chef Matt was hired by El Segundo Brewery to open The Slice & Pint pairing great beer with amazing food. Ranney the last 17 years of his professional cooking to the Slice & Pint.
Menu
Pizzas
Grand Ave – white sauce, mozzarella, spinach, fresno chili, leeks
Crowntown – red sauce, mozzarella, shaved garlic, prosciutto, Calabrian chili oil, arugula
White Dog – pistachio pesto, herbed ricotta, mozzarella, lemon juice
Appetizers
Braised pork and beef meatballs, provolone, tomato sauce
Chicken wings confit, Espelette dry rub, lemon
CLICK EVENT DETAILS TO REGISTER….