Pizza Bianca alla Romana with Italian Baker Stefano Tulipano – Advanced Pizza Making 2
February 28 @ 10:00 am

-

2:00 pm

PST

Price: $150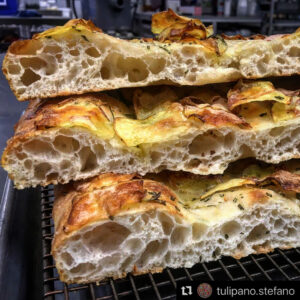 Pizza Bianca alla Romana with Italian Baker Stefano Tulipano – Advanced Pizza & Bread Making 2
Our Advanced classes bring people from around the country, from chefs and aspiring restaurateurs to seasoned home bakers. Until recently, we have limited our Advanced Class to Part 1 only.
Finally we are rolling out a new generation of the Advanced Class: Part 2. The follow-up to the Part 1 class that has been selling out since we first introduced it back in May 2020, we will be introducing a variety of traditional and innovative bread and pre-ferment applications to our high hydration, long fermentation tradition.
We are bringing in a co-instructor to co-teach with Noel, Italian Master Baker Stefano Tulipano. Born in Novi Ligure south of Piemonte, Stefano started his culinary career at the age of 14 years old in a culinary school in Genova where he specialized in bread and pastry.
After working his way up the culinary ladder from high end pastry shops to luxury hotels and finally the world of super-star chefs, he landed in Chicago where he ran the artisan bread programs for eight high volume chef-driven restaurants simultaneously for the largest restaurant group in Chicago, Lettuce Entertain You. And this is where I met Stefano, the best and most talented artisan Italian bread baker I have ever met. And we made pizza and bread together…and because life-long dough-dork-friends.
After mixing a dough together as a class, we will take our time to show you a variety of traditional and non-traditional techniques to prepare probably the most popular high hydration Italian pizza and bread to come out of Italy in the past few decades: Pizza Bianca all Romana.
Once you learn the basics of Pizza Bianca, and how to incorporate a variety of preferments into the classic recipe (poolish, biga, etc), you will bet ready to innovate!
Once you register, we'll send you a list of ingredients you'll need, actual recipes and instructions…everything you'll require to prepare for this class in advance.
Please click EVENT DETAILS  to Register.
For those of you who are not as familiar with Pizza Bianca as others, one thing that separates it from other Italian "pizza" styles is that it's home is not a pizzeria but more often a bakery.  We'll get into all of this in class of course but here are just a few of the people who I admire and respect who are working within this beautiful tradition somewhere between traditional artisan pizza and bread. There are many, many more but this list is just a jumping off point…
Jim Lahey at Sullivan Street Bakery – my introduction to Pizza Bianca in NYC before making many pilgrimages to Rome.
Antico Forno Roscioli – an institution in Rome for many baked goods including Pizza Bianca.
Forno Campo di Fiori – a "sister" bakery to Roscioli and surely an institution all its own in Rome.
Gabriele Bonci – crowned the "Michaelangelo of Roman Pizza al Taglio," his tiny Pizzarium has spawned a mini empire called Bonci Pane and so much more.
Luca Pezzetta – one of the rising start of modern Roman pizza with many accomplishments under his proverbial belt.