Virtual Event
Live Zoom Detroit-Style Pan Pizza Class with Executive Pizzaiolo Lee Hunzinger from Zoli's, Cane Rosso & Thunderbird Pies
February 7, 2022 @ 5:00 pm

-

8:30 pm

PST

Virtual Event

Price: $200.00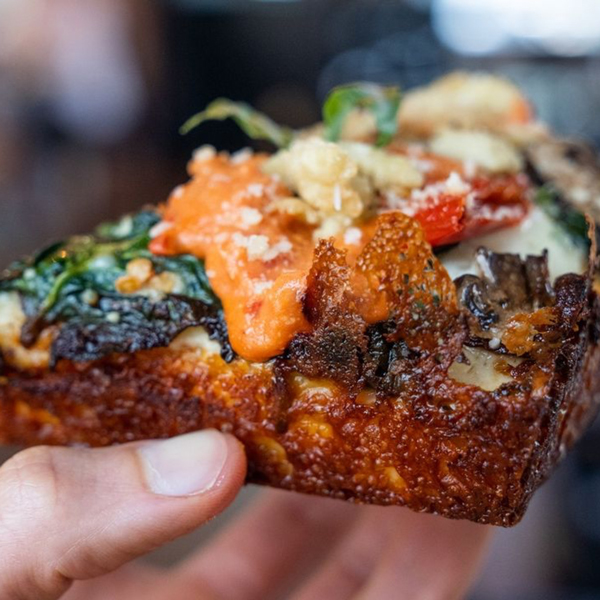 Live Zoom Detroit-Style Pan Pizza Class with Executive Pizzaiolo Chef Lee Hunzinger from Zoli's, Cane Rosso and now Thunderbird Pies – Advanced Level 2
Monday, February 7, 2022
Make Detroit-Style Pizza and learn to work with everybody's favorite preferment, Poolish, with World Champion Pizzaiolo, Lee Hunzinger.
Join World Pizza Champion and 2019 Caputo Cup winner Lee Hunzinger as he teaches us how to make his take on Detroit-Style Pizza. Working as the Corporate Executive Pizzaiolo for Zoli's and Cane Rosso, Lee has been featured in PMQ Magazine and Zoli's was listed among the best pizzerias in America by Thrillist. The Daily Meal also has placed both Zoli's and Cane Rosso in the top 101 Pizzerias of America. Ever pushing the envelope, Lee and company opened Thunderbird Pies in Dallas to showcase their superb take on this beloved style.
Lee is a master of some of our favorite regional styles: New York Pizza, Neapolitan Pizza, Stuffed Pizza, Sicilian Pizza, Garlic Knot Pizza, and probably almost anything else you can imagine.  Don't take our word for it, his work speaks for itself.  Check out these mouth watering instagram feeds:
www.instagram.com/canerossotx
www.instagram.com/zolisnypizza
And, in case you wanna know more about the double-stuffed garlic knot studded MEATZILLA photo we featured on our Instagram, here are a few links to feed your curiosity…
Meatzilla Returns to Terrorize Dallas With Tons of Pepperoni and Sausage
Watch the Making of Zoli's Sixteen-Pound Pizza, the Meatzilla 2.0
The reason you're here  though\ is to get an inside look at his Detroit process.  We're head over heels for this stuff…
https://www.instagram.com/thunderbirdpies
In this Advanced deep-dive live Zoom virtual pizza class, we will spend the better part of four hours exploring Detroit Pizza. We will mix, ferment, shape, divide, ball, pan, top, and bake.  Lee will be sharing parbaking secrets along with recipes and procedures for:
The Thunder Mifflin
The Santana Champ
The Dope Sopp'
Hot Soppressata Marmelade
House Tomato Sauce
*PLEASE NOTE*
Lee's poolish, when scaled down for home baking, uses a very small amount of yeast.  For this reason we highly recommend that you purchase a precision scale like this or this.  It should be capable of measuring to the hundredth of a gram.  We think it's a good idea to have one for measuring yeast anyway, and certainly worth the small investment. Also you may want to have something similar to this Lloyd 8-inch x 10-inch pan for the class but any pan you have will work.
After you register:
You will receive an email confirming your registration.  Then we will send you a link to instructions on preparing your dough in advance of the class, as well as your toppings and everything else you'll need for our time spent together. By preparing a batch of Lee's dough a few days in advance of the class,  you will be able to use that dough to bake along with him on Zoom.  You should also make sure your poolish is ready to go by class time. This will allow you to mix a second batch live with us during class for you to then bake on your own time. Don't worry, we'll answer all of your pre-class questions via email.  We're certain this deep-dive virtual pizza class will give you the opportunity to ask all of your burning artisan pizza questions.
We'll also send you additional directions including instructions narrowing down the list of recipes and procedures we'll be focusing on during the class. Lastly, we'll send you a Zoom webinar link.
Suggested Pizza Class Pre-Requisites: Intermediate Level 1 & Advanced Level 1
ZOLI'S NY PIZZA | THUNDERBIRD PIES | CANE ROSSO
@zolisnypizza | @thunderbirdpies |@canerossotx | @pizzalee33
Please email us if you have any questions or comments at info@slowrisepizza.com