Virtual Event
FOODHEIM LIVE: Live Zoom Pan Pizza Class with Eric Wareheim (+eBook)
January 29, 2022 @ 2:00 pm

-

5:30 pm

PST

Virtual Event

Price: $200.00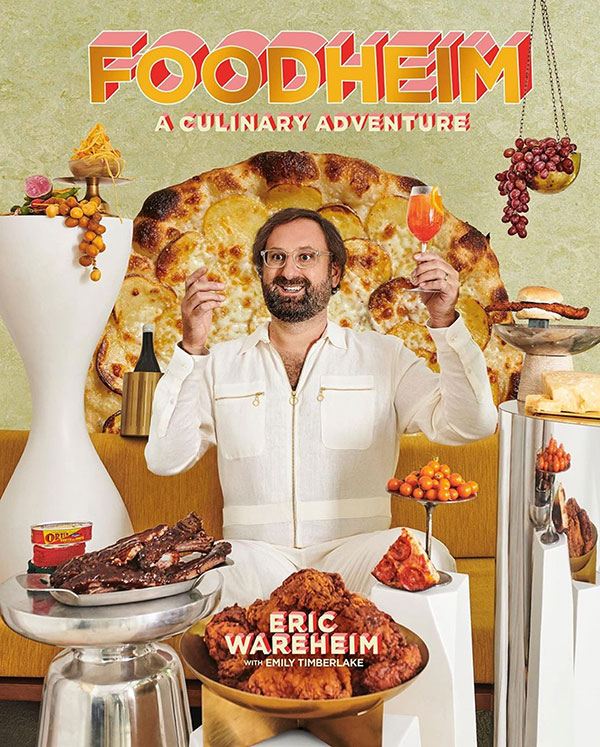 FOODHEIM LIVE: Live Zoom Pan Pizza Class with Eric Wareheim (+eBook) – Intermediate Level 2
Join our favorite director, producer, actor, winemaker, and all around pizza fanatic Eric Wareheim as he teaches us everything we need to know to throw a darn good pizza party! 
The first 50 people to register for the class will receive a hardcover copy of FOODHEIM while the other lucky attendees will receive a link to download the eBook copy of FOODHEIM.
FOODHEIM is a New York Times Bestseller and was named one of the best cookbooks of the year by the New York Post.  
Saturday, January 29, 2022
You never know what's going to happen when Eric Wareheim invites you over for a pizza party, and this will be no exception!  In this class, we'll learn all the secrets to preparing Eric's signature Personal Pan Pep Pep, Cheesy Dippers, and Eric's own take on Detroit Style! We will mix, ferment, divide, shape, divide, ball, pan, top, and bake together. 
Personal Pan Pep Pep Pizza – Inspired by Pizzahut – P.86
Cheesy Dippers – Inspired by Papa John's Cheese Bread – P.85
Detroit-Style Pizza **Bonus Recipe** 
Surprise Yummers
Pizza & Wine Pairing
MORE INFO TO COME…
Praise for FOODHEIM:
"Wareheim's passion for delicious meals, high-quality ingredients, smartly paired wines, and throwing food-centric parties is one hundred percent sincere. And infectious." 
—Los Angeles Magazine
"This is a fun book for people who are down to have fun with cooking, eating, and entertaining."
—Food & Wine
"Anyone can cook, but only the fearless can be great. Eric is fearless, curious, creative; his door is always open for the unexpected. Eric can cook, and this book shows us how much he loves it."
—Massimo Bottura, chef, Osteria Francescana
"You will forever see, feel, and taste shapes and sizes that are both familiar and foreign but always delicious. I love the perspective and love this instant classic."
—Chris Bianco, chef and author of Bianco
After you Register:
Once the first 50 people have registered, we will mail everyone their hardcover copies of FOODHEIM.  That mail blast is scheduled to begin on January 15, possibly earlier.  Following that, additional eBooks will be sent out within 24 hours of each class registration.  To follow, all class registrants will receive an update including a link to class files including a shopping list, bonus Detroit-style pizza recipe, as well as additional instructions to prepare your dough, toppings, and everything else you'll need for our time spent together during class. Finally, we will send each attendee an email with a secure Zoom webinar link for the virtual class. 
By preparing a batch of Eric's dough a day in advance of the class, you will be able to use that dough to bake along with him on Zoom.  You will also mix a second batch of dough live with us during class for you to bake on your own time.  Don't worry, we'll answer all of your pre-class questions via email.
Eric will be teaching us how to make his 6-inch pan pizza, so you'll probably want a circular pan in that size. Something like this Lloyd 6-inch x 2-inch pan should work well.  He'll also be doing Detroit-style pizza, so you may want to have something similar to this Lloyd 8-inch x 10-inch pan.
ATTENTION: THIS IS A NO REFUNDS, NO EXCEPTIONS CLASS. BECAUSE WE KNOW THAT THE CLASS WILL SELL OUT AND BECAUSE WE ARE SENDING THE FIRST 50 ATTENDEES A COPY OF FOODHEIM (A ONE-TIME REDEEMABLE VOUCHER FOR AN E-BOOK WILL BE SENT TO THE REST OF THE ATTENDEES), ALL SALES ARE ABSOLUTELY FINAL.  PLEASE UNDERSTAND THIS BEFORE YOU GO AHEAD WITH YOUR PURCHASE.  THANK YOU IN ADVANCE FOR YOUR CAREFUL CONSIDERATION OF THIS POLICY.
IN ADDITION: WE WILL ASK FOR YOU TO PLEASE FILL INCLUDE YOUR CURRENT MAILING ADDRESS WHEN YOU REGISTER AND PAY FOR THIS CLASS.  THIS IS VERY IMPORTANT.  IF YOU ARE ONE OF THE FIRST 50 PEOPLE TO REGISTER FOR THIS CLASS, YOU ARE ENTITLED TO RECEIVE A HARDCOVER BOOK INCLUDED IN THE PRICE OF THIS CLASS…BUT WE WILL NEED YOUR CURRENT MAILING ADDRESS IN ORDER TO PLACE THE ORDER ON YOUR BEHALF.  PLEASE UNDERSTAND THAT YOU WILL ONLY RECEIVE AN eBOOK IF YOU DO NOT PROVIDE A CURRENT MAILING ADDRESS AS REQUESTED.  U.S. ADDRESSES ONLY.  THANK YOU IN ADVANCE FOR YOUR COOPERATION.
More about the book from the Publisher…
"Director and actor Eric Wareheim might be known for his comedy, but his passion for food and drink is no joke. For the last fifteen years he has been traveling the world in search of the best bites and sips, learning from top chefs and wine professionals along the way. His devotion to beautiful natural wine, the freshest seafood crudos, and perfectly cooked rib-eyes is legit. And now he wants to share with you everything he's learned on this epic food journey.
In Foodheim, Wareheim takes readers deep into his foodscape with chapters on topics like circle foods (burgers, tacos), grandma foods (pasta, meatballs), and juicy foods (steak, ribs). Alongside recipes for Chicken Parm with Nonna Sauce, Personal Pan Pep Pep, and Crudite Extreme with Dill Dippers, you will discover which eight cocktail recipes you should know by heart, how to saber a bottle of bubbly, and what you need to do to achieve handmade pasta perfection at home.
Written with award-winning cookbook editor Emily Timberlake and featuring eye-popping photographs and art chronicling Wareheim's evolution as a drinker, how to baby your pizza dough into pie perfection, and more, Foodheim is the ultimate book for anyone who lives to eat."
Please email us if you have any questions or comments at info@slowrisepizza.com