Virtual Event
Live Zoom Sourdough Pizza Class with Chef Scott Rivera from Scottie's Pizza Parlor
January 10, 2022 @ 5:00 pm

-

8:30 pm

PST

Virtual Event

Price: $200.00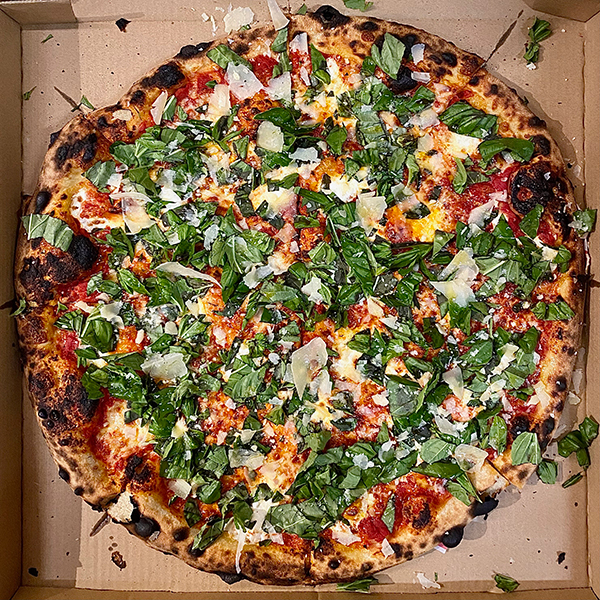 Virtual Sourdough Pizza Class with Scott Rivera from Scottie's Pizza Parlor Featuring Two Pizza Styles – Naturally Leavened New York & Grandma Style Pizza – Advanced Level 2
Monday, January 10, 2022
Portland was recently named, "Best Pizza City in the United States" in the epic pizza tome, MODERNIST PIZZA and Scott Rivera's was proclaimed their, "favorite New York-style slice from across the country."
More from Modernist Pizza:
"The throwback term 'pizza parlor' makes sense here.  Scottie's is old-fashioned in ways that feel good, yet manages to skip any old fashioned stuff that's tired.
Scottie Rivera was born in Brooklyn and, though he left New York as a kid, he really missed the corner pizzerias. He became obsessed, studying pizza books, blogs, and videos, and inching ever closer to what he considered the perfect pizza. We call it New York-style, but it has Rivera's spin. The dough is made with levain (sourdough) which is unusual for that style. He sells both slices and whole pizzas that are baked using a proprietary process that drives off excess moisture, leaving the pizza just the right amount of crispy.  
Rivera's enthusiasm for pizza is as genuine as it is infectious, and he served us what turned out to be our favorite New York-style slice from across the country."
In this Advanced deep-dive live Zoom virtual pizza class, we will spend three and a half hours exploring artisan pizza with the king of Portland New York-style pizza. (For those of you who may not be familiar with the Portland pizza scene, check out Brian Spangler's Apizza Scholls, Ken Forkish's Ken's Artisan Pizza, and Sara Minick's Lovely's Fifty/Fifty for inspiration.)  This class will require a viable sourdough starter and we recommend that you feed it 4 days in advance of class.  On the second day, you will make your dough, and it will slowly ferment until class time.  We recommend that if you plan to mix along with us on class day, that you have your starter ready to mix and your ingredients weighed and ready by 5:00 PM PST. We will mix, ferment, shape, divide, ball, stretch, top, bake, and focus on the following recipes, techniques and concepts:
16" Square Grandma Pizza (a.k.a. DeFino)
18" Signature NY Cheese Pizza (a.k.a. The #1)
Vodka-Sausage Pie
Spicy Fennel Sausage Recipe
Garlic Oil Recipe
After you register, we will send you a Zoom webinar link for the virtual class. The link will contain instructions to prepare your sourdough starter in advance of the class, as well as your dough, toppings, and everything else you'll need for our time spent together during class.  Then, once class begins, we will do it all again together over Zoom.
By preparing a sourdough starter in advance of our class, as well as a batch of Scott's dough, you will be able to mix along with us, as well as bake pizza in your oven while Scott bakes in his.  Don't worry, we'll answer all of your pre-class questions via email.  We're certain this deep-dive virtual pizza class will give you the opportunity to ask all of your burning artisan pizza questions.
If you plan to prepare Grandma pizza with us, we recommend that you use the same pans that Scott uses – 16X16 Inch Grandma Pizza Pan by Lloyd Pans – though any pan will work.  In addition, Scott uses Cairnspring Mills Trailblazer Bread Flour in his recipe, which you can order straight from the mill if you have enough time before the class. We have set up a discount code for for all friends of Slow Rise Pizza: SLOWRISE15.  The code will allow a 15% discount off all products on the website, one use per customer and is valid through Feb 28, 2022. Also, for those of you who are professionals and have access to a professional deck oven, and even if you don't, Scott will be using the ever-popular Pizza Master 932 electric deck oven to bake and will share tips for using this professional deck oven to get excellent pizza results.
We'll also send you additional notes including instructions for narrowing down the list of pans and ingredients to find the ones that will work for you and your needs.
SCOTTIE'S Pizza Parlor
scottiespizzaparlor.square.site | @scottiespizzaparlor
2128 SE Division St, Portland, OR 97202
Please email us if you have any questions or comments at info@slowrisepizza.com