Virtual Event
Live Zoom Artisan NY & Pan-Style Pizza Class with Poolish with Executive Chef Chris Keyser from U Street Pizza & Union Pasadena
February 28 @ 5:00 pm

-

8:30 pm

PST

Virtual Event

Price: $200.00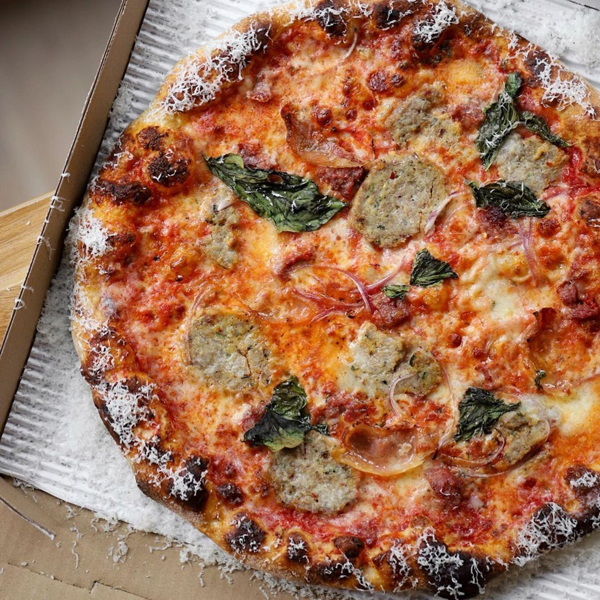 Live Zoom Artisan NY & Pan-Style Pizza with Poolish Class with U Street Pizza & Union Pasadena Chef Chris Keyser – Advanced Level 1
Monday, February 28, 2022
Have you ever wanted to know how a professional chef uses one dough to make both round pies and square?  How about using a traditional artisan bread preferment like poolish to make next-level pizza?  Finally, how about incorporating whole wheat flour or sifted T-85 to make killer, extra-crispy New York pizza?  Then this is the class for you!  
We can't wait to show you how he's using some of the best stuff available from Washington State's Cairnspring Mills.  Chris will explain how he uses a mixture of artisan bread flour and organic high extraction flour to make the poolish that powers his pizza.  
If you want to mix along using the same flour as Chris is using, we've got great news!  We've partnered up with Cairnspring Mills and they're offering an exclusive discount code to Slow Rise Pizza students.  Use promo code SLOWRISE15 for 15% off all orders at cairnspring.com.
Chris uses Glacier Peak bread flour and Organic Skagit 1109 Type-85 among others, FYI, but you can use any flour you like.
Our friend Chris takes his pizza seriously.  He learned wood-fired pizza early on in his career with the legendary Marc Vetri, working on the line at his world famous Osteria for many years perfecting his skills.  And in preparation for the opening of his current pizzeria, he went home to Philadelphia to stage at some of our favorite spots in Philadelphia, including Angelo's, Circles and Squares, and Beddia. Chris will be teaching both round and square pizzas, so there's definitely something here for everyone!
From Eater LA:
"Keyser has East Coast Italian cooking in his bones, having worked under Marc Vetri for years before moving to greater Los Angeles. Keyser previously told Robb Report that the pizza menu would focus on New York-style pies. "We're looking for thin, we're looking for crispy, and we're looking for crack, with a little bit of breadiness," he told the publication last month." 
Thin?  Crispy?  Crackly?  Sign us up!  Actually sign yourself up, because this class is going to be incredible.
In this Advanced deep-dive live Zoom virtual pizza class, we will spend the better part of four hours exploring Chris's take on NY Pizza. We will mix, ferment, shape, divide, ball, pan, top, and bake. 
Chris will share recipes and procedures for:
Petaluma Style: Organic Petaluma mozzarella, grandma sauce, pecorino romano, California olive oil.
Cheese Pie: Tomato sauce, mozzarella, basil
Clam Pie: Little neck clams, mozzarella, fior di latte, parsley, fresh garlic, lemon, fiscalini cheddar.
U Street House Salad: Summer squash, caciocavallo, muscatel ranch, basil breadcrumbs.
Here's a bit more about Chris, from UnionPasadena.com:
"Chris Keyser was in his early twenties when he started his career with Marc Vetri.   He worked at Philadelphia mainstays Alla Spina, Osteria, Amis and Lo Spiedo.  He opened Vetri's West Coast restaurant in Palo Alto and then moved to  Los Angeles to work with Akasha Richmond at AR Cucina . Keyser quickly won the recognition of L.A. food critics and earned AR Cucina a spot on LA Weekly's "99 Essential Restaurants" list.  Eventually, Chris's passion led him to Italy.  He  spent the summer splitting his time at prestigious restaurants including Michelin-starred Frosio. He credits his time at the highly touted Cucina Cereda for the deeper development of his style. "
After You Register
: 
We will send you a link containing instructions to prepare your poolish in advance of the class, as well as your dough, toppings, and everything else you'll need for our time spent together.  After that, you'll receive an additional link to the Zoom webinar.  By preparing a batch of Chris's dough a day in advance of the class,  you will be able to use that dough to bake along with him on Zoom.  You should also make sure your poolish is ready to go by class time. This will allow you to mix a second batch live with us during class for you to then bake on your own time.  
Don't worry, we'll answer all of your pre-class questions via email.  We're certain this deep-dive virtual pizza class will give you the opportunity to ask all of your burning artisan pizza questions.
We'll also send you additional directions including instructions narrowing down the list of recipes and procedures we'll be focusing on during the class. 
Suggested Pizza Class Pre-Requisites: Intermediate Level 1 & Advanced Level 1
U STREET PIZZA | UNION PASADENA
www.unionpasadena.com | www.ustreetpizza.com
@unionpasadena | @ustreetpizza
37 E Union St., Pasadena, CA 91101
Please email us if you have any questions or comments at
info@slowrisepizza.com