Virtual Event
Live Zoom Argentine-Style Pan Pizza "Al Molde" Class with Chef Roberto Petersen from Buenos Aires (with Spanish Simulcast)
February 26 @ 10:00 am

-

1:30 pm

PST

Virtual Event

Price: $100.00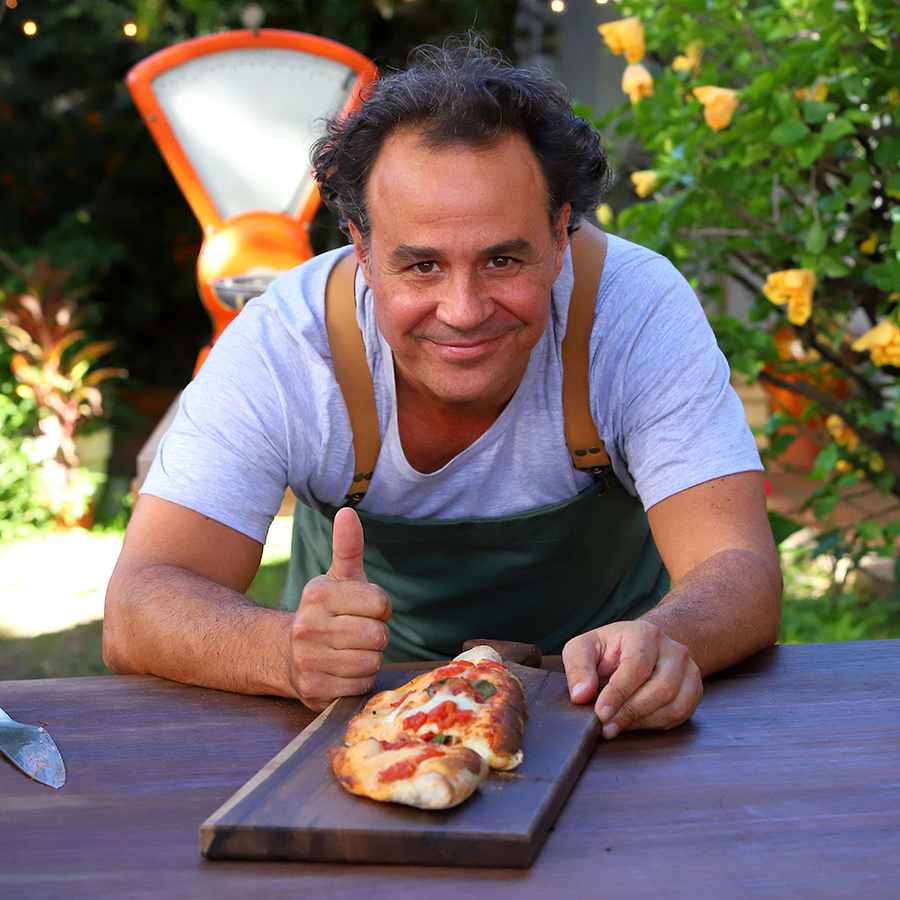 Live Zoom Argentine-Style Pan Pizza "Al Molde" Class with Chef Roberto Petersen from Buenos Aires (with Spanish Simulcast) – Beginner/Intermediate Level 2
Saturday, February 26, 2022
Pizza Maker, Celebrity Chef and International TV Personality Roberto Petersen teaches us how to make Argentinian "al Molde" (Pan Pizza), Fugazzeta, Faina, Beef Empanadas and more…in English.
Argentinians take their pizza seriously.  It turns out Italians didn't only emigrate to New York City, and Buenos Aires has the pizza scene to prove it.  Award winning Chef, Roberto Petersen, is passionate about pizza, and more specifically, Argentinian pizza.  He'll be teaching us some delicious pan styles, including a mouth watering onion pizza stuffed with cheese (Fugazzetta) and another Pizza al Molde featuring anchovies, capers, and tomatoes.  And, of course, beef empanadas!  And even a local treat that few outside of South American know about, Faina. 
Noel met Roberto last year when the famous chef was spotted in one of our Live Zoom pizza classes (actually, Roberto attended all three – Beginner, Intermediate and Advanced 1), and we were excited to see such an accomplished pizza chef taking the time out of his busy schedule to improve his dough skills during his off hours!  For those of you who might not know, Roberto Petersen is a household name in Argentina specifically (and Latin American in general) and hosts multiple television shows.  His work on "Los Petersen" won him a Martín Fierro Award, the highest honor for Argentine television and radio.
If you're wondering what's so unique about Argentinian pizza, here's what Modernist Pizza has to say:
"…if you compare the pizza in Argentina to the pizza in its Italian homeland, the two are very different.  Argentinian pizza is also different from New York pizza, even though they're both one step removed from Italy and came of age during a similar time frame.  We're not just talking about different topping choices based on local ingredients.  It's much more profound than that–a kind of alternative experiment in the history of pizza."
Los Angeles' own Chef Jeffrey Merrihue wrote a short but excellent book on pizza and had this to say about Buenos Aires, which Merrihue calls the "second center" of pizza after Naples Italy:
Most pizza lovers think pizza went straight from Naples to New York and are unaware of the pizza capital of Latin America that predated the New York revolution.  In Buenos Aires you will find supremely high quality pizza with a distinct personality, as well as the mighty fugazzeta which should be enshrined as an UNESCO treasure.  
The first recorded pizza was seven years before the invention of the Margherita in Naples by a Neapolitan baker Nicolas who sold a simple recipe of dough, garlic, olive oil and onion from a rented oven on the streets in "La Boca" neighborhood in 1882.  
Agustin Banchero then created the legendary cheesy "Fugazzeta" in his bakery Riachuelo (1889).  His son Juan then founded Banchero (1932).  His contribution of Fugazetta to Pizzadom is truly epic.  It is a deep dish of onions, mozzarella, black pepper and olive oil.  Las Cuartetas (1936) is also famous locally for the Pizza Salvatore made with mozzarella and anchovies.  Since then Las Quartetas and other famous pizzerias like Guerrin (1932) and El Cuartito (1934) have served these regional specialties to an adoring Buenos Aires.  The best Fugazetta is served at La Mezzetta (1939) –make sure to order it with the edible chickpea plates [called Faina] that slide under or on top of the slice and which you will see nowhere else.
Here's some more info on Roberto, translated to English, from elgourmet.com:
"Born in Buenos Aires in 1968, Roberto started in the kitchen with his maternal grandmother. From a very young age he collaborated in his mother's restaurant in San Isidro, Buenos Aires, where he took his first steps as a kitchen assistant.  Roberto studied biochemistry at the University of Buenos Aires. However, he dedicated himself fully to gastronomy, studying at the best schools in the country and then perfecting his skills at important schools around the world.  In 1993 he won the annual award for the best Argentine chef, together with his brother Christian, with whom he later won the first three prizes in the Chilean masters tournament.  
He is currently a member of the Academie Culinaire de France, and of the Academia Nacional Bocuse d'Or Argentina.  Founder of Los Petersen Cocineros, together with his brother, he has been dedicated to haute cuisine in Argentina for more than 25 years.  The three areas in which he works are: restaurant, catering, and TV shows. Within the catering sector, he handles corporate and private events providing high quality service.  Roberto Petersen has made his name synonymous with good cuisine, and today he is part of the elgourmet.com network together with his brother Christian in the program "Los auténticos Petersen."
We're also excited to announce the *Global Debut* of our Spanish Simulcast
That's right, folks!  We'll be doing simultaneous interpretation (verbal translation) in real time so our Spanish speaking pizza friends and fans of Roberto can join in on the fun too.
In this Intermediate Level 2 live Zoom virtual pizza class, we will spend the better part of three and a half hours exploring artisan pizza with Roberto. We will mix, ferment, shape, divide, ball, pan, top, and bake together.
After you register:
You will receive an email confirming your registration.  Secondly, we will send you a link to instructions on preparing your dough in advance of the class, as well as your toppings and everything else you'll need for our time spent together. Finally, we will send you a Zoom webinar link for the virtual class.  By preparing a batch of Roberto's dough a few days in advance of the class,  you will be able to use that dough to bake along with him on Zoom.  Don't worry, we'll answer all of your pre-class questions via email.  We're certain this deep-dive virtual pizza class will give you the opportunity to ask all of your burning artisan pizza questions.
Pizza Zën
Please email us if you have any questions or comments at info@slowrisepizza.com